Domestic Downsizing in the Media
Decluttering for the New Year
Radio interview on 2GB Sydney December 2012
Listen here
_____________________________________________
How Clutter Can Cause Stress
Happy Mind Teleseminar March, 2012
Happy Mind Tele- seminar – Kerri- Rodley – Routine and Organisation.mp3
click to download
---
Top tips to declutter your computer – and increase your productivity!
Health Information Management Journal 2012
Clutter on your computer greatly affects the way you work – and ultimately your productivity. A slow, sluggish computer not only slows down your day, but it can also add to your stress.
It does take some time and patience to declutter the files and programs you no longer need, but if you try to spend at least 10 minutes per day on the task, you will gradually notice the positive effects as things start to speed up once more (not to mention the time saved in finding files).
Here's what you do:
Firstly – back up everything on your computer, just in case you accidently delete something important
Next, clean up your desk top – create a folder called Desktop and put all the files from the desktop and drop it into this folder for sorting and re-filing. You will be surprised how liberating a clean desktop screen can make you feel! Get into the habit of properly filing documents, not just saving to the desktop. Leaving files on your desktop is like leaving a file on your desk.
Check the temporary files which are created both under the windows folder as well as on the internet temporary folder. Every email attachment that you open and close creates a temporary file and it sits there permanently until you delete it.
Search for files which have not been used for more than a year, using the advance option in the search panel and decide what is no longer required.
Take a look at all the programs you have been using. More than half of the programs in the My Programs option are used only once and are never reused again. You may have been installing programs, but never bothered to uninstall if they no longer required. Go into the control panel and remove all unwanted programs from there (especially the games!)
Open the Recycle bin and empty it.
Do a disk cleanup and a defragmentation. This does a thorough clean up of the computer and reorganises the files completely. You can also schedule a defrag on a weekly basis.
Voila! A clean and uncluttered computer and a more productive day from now on.
---
Spa & Wellness Magazine March, 2012
Kerri Rodley – Saving China Moon Bears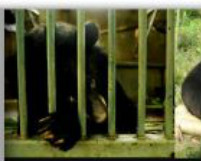 To read the article online go to: Spa and Wellness Magazine
---

Insight Magazine March, 2012
Earth Angels – Love Laid "Bear"
Each month we recognise ordinary people who do so much for others.
Kerri Rodley, an earth angel, works tirelessly to raise funds to help in the rescue of China Moon Bears, and in May 2012 she will be joining in a five-day trek along remote and unrestored sections of the Great Wall of China. After the trek she will visit the Animal's Asia sanctuary at Chengdu, Sichuan Province, where the bears live out their lives freely in a beautiful bamboo forest.
Read more here: http://www.insightmagazine.com.au/earthangels.html
---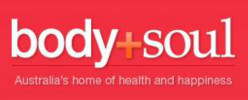 Body + Soul February 8th, 2012
Declutter your home and your head
Clearing out clutter isn't only about creating more space – it might declutter your mind as well.
Disorganised people with cluttered lives often feel frustrated, anxious and out of control. They may find it difficult to truly unwind and relax. Decluttering, on the other hand, has the ability to generate fresh energy, create mental and physical space, and release negative emotions.
That's according to many decluttering experts, none more prominent than Australian Peter Walsh, author of several books on decluttering and host of Extreme Clutter.
What the experts say:
"Things that are left undone can be your own undoing," he says firmly. "They just add stress and waste precious time. Organising is the act of giving yourself more time and peace of mind."
Psychologists describe attachment to clutter as an emotional condition that can bring with it embarrassment, stress and depression. At its worst, it becomes hoarding, which reflects a more serious obsessive-compulsive disorder and requires a much more long-term solution.
Most of us, though, can learn to deal with clutter, starting from the moment we recognise the many benefits of decluttering our space. "Quite simply, being organised gives you more time for the things you want to do – cooking, exercising, family time, taking a bath – you time. That's very important to mental health," says personal organiser Kerri Rodley.
"To put it another way, decluttering is the number one step in the feng shui process because, if energy can't flow freely, nothing else can begin to improve," says Kerri, who is also secretary of the Association of Feng Shui Consultants. She says the bedroom is the best place to start, since this is the most important room for healing and rejuvenation.
However, it would be wrong to think that a tidy-up or buying containers will alone solve cluttering, as if the house itself is somehow the problem. A home reflects its occupants, and fundamental changes in behaviour may need to be addressed.
We also have a socially driven tendency to believe that possessing more brings greater happiness. Tackling this assumption can also bring better mental health and happiness. In fact, owning more things brings with it more anxiety about how to pay for, protect and look after them. The simple truth is that owning less is easier than organising more.
"Try to understand the role in your life played by all those accumulated belongings. Many people hang on to belongings for comfort and security, and to remind them of who they've been and who they want to become," explains Peter Walsh. He says letting go of clutter is often about letting go of the emotional baggage we carry around with us, allowing us to enjoy life in the here-and-now.
---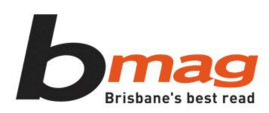 b mag, February issue 2012
The Big Career Switch
A career for life is a thing of the past as more people pursue their passions.
Alex Bernard talks to Kerri Rodley who has made the big switch successfully.
Marketer to organiser – Kerri Rodley, 42, runs Domestic Downsizing.
"I help create homes that people love, help them get organised, do interior designing and feng shui," she explains. It's a long way from studying agricultural science at Hawkesbury in NSW, where she majored in marketing. She worked for the Woolmark company for 10 years. "I worked on the Olympic uniforms, which was a highlight, but then I needed a change and moved into tourism for the next 10 years."
Married to an army officer, she was used the big career switch to packing, moving and organising houses.
Rodley and her family moved constantly and were posted in the United States for three years. While she was there she discovered the world of professional organisers. "Oprah has her own professional organiser. It's a huge industry in the States and I thought 'I could do that – I do it all the time!'
"Turning 40 was the turning point for me. It was really daunting setting up my own business. Yes, I had a marketing background and I did some great business courses, I got my interior design diploma, studied Feng Shui, but the learning curve has been very steep."
More than two years down the track, Rodley credits a lot of her business success to positive word of mouth and her corporate business is increasing as more people are working from home. But she admits it is very different to her previous job in government.
"You have to be motivated; you don't have a whole team to rely on."
---

The Brisbane Times.com.au Tuesday December 6, 2011
Advice for Mature Downsizers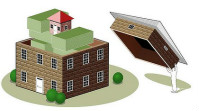 My brother rang recently to ask whether I wanted my secondary school essays that he'd found boxed in the roof space of the family home. I told him to leave them just where they were.
It might have been a lifetime ago, but I know that when I was in Upper 6th I wrote a fabulous essay on George Orwell and the English language – and would read again. Surely a few kilos of paper plus some old shoes, handbags and now retro fashion items couldn't be taking up too much room.
I suppose it would have been a different story if my brother, or my parents before him, had decided to move house. You just can't take other people's personal heirlooms with you.
Kerri Rodley of Queensland-based Domestic Downsizing advises says mature householders who are planning to downsize to get their kids to clear out their own rubbish/treasures.
Move My Home spoke to Kerri the day after she'd helped a still-active client in her eighties downsize from a 4-bedroom home to a 2-bedroom retirement unit.
"She was moving from huge to tiny, and she wanted to take all her family heirlooms and the things she loved, liked her giant dining table," Kerri said.
"Unfortunately it won't fit. I had to say, "How can you live and move around in the new space? You're getting older and you must be able to get around quite easily without things getting in your way. You must be realistic about your new lifestyle."
It hit home and we sat down and did a plan about how she would walk around the house. It made her rethink her whole strategy, otherwise we'd have taken everything to the new place and not have had anywhere to put it.
"Next week we'll go to the unit and put sticky-tape on the floor where the furniture will be, rather than bring the furniture and having to move it all around again. I find that works quite well."
In Kerri's experience people often fail to consider the practicality of having a large flat-screen TV in a small space.
"That was a big thing for this lady, who watches a lot of TV," she said. "You must sit well back from it. You need a giant space between the chair and the TV, downsizers don't often have that space."
And it's not just the furniture that must be considered when it comes to sorting belongings.
"Things that are hidden must also be thought about," Kerri said. "My client loves to cook, and had a fantastic big kitchen in her old home. But the kitchen in the unit is tiny, and all her cooking things, even her cook books, wouldn't fit in the new space."
Displaying cherished antiques, artwork and family photos can also pose problems in a smaller home, Kerri said.
"The walls in this lady's old house were all plastered, but in her new unit there's a lot of exposed brick and you can't easily place things on the walls. I've said we'll make a feature wall from her favourite photos and paintings."
"Then she can keep some others in a box and change them in six months time. It'll be like a moving art wall. It's a concept that worked well for her.
"This client was quite a realist. She has some fantastic antique cabinets and China from her mother. I suggested that she pass them on to her children now. Then she can tell the stories about the different items and explain the meanings behind them"
"She thought that was a good idea. This a whole new phase of life, but you can't just cut off the past – you must incorporate it and blend past and future."
Kerri Rodley's Top Tips for Mature Downsizers:
Go through everything in your home and ask yourself – is this part of my new life? Do I really love it? Will it be useful in the new home? Do I really need it any more?
Be ruthless – you won't have time in your new active lifestyle to be decluttering, cleaning, and dealing with the past – you will be enjoying the present and planning for the future.
Don't try to do the decluttering, sorting and moving all at once – this will be very stressful, and the whole idea of downsizing is to reduce stress. Take it one room at a time, and have the decluttering and sorting done way before you start collecting moving boxes!
Get your children involved – pass on heirlooms to them or items you really love, but know won't fit in your new home. It's hard to let go of sentimental items, but if they stay in the family it reduces the stress. Identify those items you want certain family members to have and consider what items you are willing to bequest now.
Remember, you may get more pleasure out of seeing your granddaughter enjoy your china at the next family event than knowing she'll have it after you're gone. Important – don't burden your children with stuff if they don't want; you don't want to clutter up make their homes in the process.
Have the kids remove their stuff: Don't hesitate to tell the adult children it's time to collect their childhood belongings and store their own mementos. Give them a deadline that works with your schedule and warn them that anything left over will be donated to charity. You may be surprised at how much they decide not to store themselves.
Write down family history as you come across special items so your children will know where it came from and will contribute to the value of family heirlooms.
Always measure your new home to see what will fit. Going from a 4-bedroom family home with lots of big furniture is not going to work in a retirement village where space is at a premium.
Consider selling or donating your furniture and look are purchasing more suitable items – remember you're starting a new phase of your life, so why bring in items from your old life if they don't fit the bill?
Consider how much time you'll be spending in the space, or what new routines or activities you'll be doing. Are you going to be having new friends around for card games in your new home or will you be spending more time in the common recreation room with others?
This will determine where you'll need space or the size of furniture, or even how many spare chairs.
---
The Brisbane Courier Mail Saturday 12 November 2011
Bear Challenge
City Beat loves a challenge, but maybe not to the same extent as Norman Park professional organiser Kerri Rodley.
Kerri, from the quaintly titled firm Domestic Downsizing, is off next year to China to save the moon bears.
In May, she will take part in the China Moon Bear Challenges, a five-day trek on the Great Wall, culminating in a visit to the moon bear sanctuary in Chengduu.
She wants to raise $10,000 on behalf of Animals Asia and is encouraging people to declutter their wardrobes and donate their clothing and accessories to the Bear Naked Wardrobe Sale. Next Friday she is also organising The Bear Essential Shopping Tour of Brisbane and you can contact her on 0422 520 354
---

The Geelong Advertiser Saturday 20 August 2011
Style Cues Can Boost Your Sale
Before moving take only what you need. Moving home is the perfect time to get rid of excess baggage and pare down to the essentials. Take a walk through your house and evaluate everything you come across. Ask yourself if you've used it in the past year and, if so, how often? Be honest.
Think about storage. For stuff that you really have a hard time getting rid of, make this agreement with yourself: Put the items in storage. If you don't need or use them within 6
months, give, sell or throw them away.
Will everything fit? Always measure your furniture to work out if it will fit into your new space – particularly large items and measure or get the floor plans to your new home.
Assess new storage areas. While you're getting room measurements, make sure to property assess the storage space. Will you have fewer kitchen cupboards? How many closets? Assessing exactly how much of the new space is dedicated to storage will give you and idea of the volume of items you need to dispose of.
Sell your stuff. Have a garage sale or sell larger items such as furniture, appliances and home decor items to people living in your area through the paper. If listing on eBay be sure to take good quality photos and offer good descriptions.
Get organised. Before you move to your new place, store as you pack. Place items in decorative storage boxes that can be moved and placed easily. Plastic bins are great. Don't forget to label everything by room.
Move large items first. You'll have the most energy for this task at the beginning and it will also give you a better indication of where the smaller things will go. Don't merely fill a
room with the idea of sorting it all out later.
Organise as you unpack. Utilise wardrobe and cupboard storage solutions as you unpack. This way, more can be stored in these tight spaces and you'll be setting a precedent for
how your new, smaller space will be used.
Relax and enjoy! You no longer have to worry about the burden of maintaining a home too big for your needs and you have simplified your life by surrounding yourself with only those things that are most important to you.
■ Kerri Rodley is a professional organiser, interior stylist, Feng Shui consultant and the author of eBook The Essential Guide to Declutter and Organise Your Home available at www.domesticdownsizing.com.au. Read entire article here:

---

Muck and money: meet the gunge-busters
The Sydney Morning Herald Friday 1 July 2011
Where there's muck, there's money, apparently. So, instead of fixating on founding the new Scoopon or Spreets, ponder the market for people willing to get their hands dirty: people dealing with dirt, bugs and poo – dry-heave heroes often told "You couldn't pay me to do that".
Meet three small business battlers who explain lessons learned from tackling similarly unglamorous, reasonably lucrative gag-reflex work.
Brisbane-based domestic organiser Kerri Rodley tackles the works: dirt, spiders and faeces. Before launching on June 30, 2009, Rodley was a marketing manager. The best part of "decluttering" is the relief of clients, she says.
Decluttering takes a huge weight off their shoulders and makes them love their home again, she says. The biggest headache is tackling "really grotty jobs", the queen of clean says, citing spiders and pet droppings.
During one grotty assignment for the Today show she cleaned a fridge soaked in the Queensland floods, taking out all removable parts and mopping every surface and crevice with antibacterial detergent.
The "particularly rotten number from Bellbowrie" had been left stocked-up by the road for two weeks.
"The stench was so bad that myself and the crew were dry-retching right before we went to air…never again!" Rodley says.
Her messy work brings her far less money than marketing she admits. But she describes helping others make their homes into "organised stylish sanctuaries" as "a passion" and adds that the big bucks will come.
Some organisers sickened by dirty, draining hands-on work, earn six figures as trainers, speakers and authors, she says. Her tip: be compassionate and empathetic – listen and gain the clients' trust.
Read the entire article here: Muck and Money: Meet the Gunge Busters
---

Moving in mysterious ways
WA Today Property Secton Tuesday 21 June 2011
If you're interested in applying the principles of Feng Shui to your life, moving into a new home is an ideal time to start.
Feng Shui consultant, Kerri Rodley of Domestic Downsizing in Brisbane, says Feng Shui is about the energy or Chi flowing through the home. She believes that houses have memories which must be cleared before new occupants make a fresh start.
"The energy of all past events that happened in the space will still linger inside," she says. "When you move into a new space, it's a good idea to do some space clearing with candles, incense or smudge sticks.
Give the entire house a very thorough clean, open all the windows to let the air flow through, then do some space clearing with candles, incense or smudge sticks."
Kerri recommends preparing for the move by placing welcoming items in the home, such as beautiful flowers, fruits, plants or some of your favourite music.
"Buy your house a gift that you absolutely love," she says. "It can be as small as a candle or as large as a new piece of furniture.
This should be the first object that you move into the house. And don't move all the boxes into the house at once; leave them in the garage and bring them in one at a time."
Kerri endorses the old tradition that you should never bring an old broom to a new home.
"Buy new cleaning equipment because this is a new space – you won't want to 'sweep in your old troubles' with the broom from your last house.
If possible, hire a professional service company to clean your space 3 to 4 days before you move in. You don't want your first act in your new space to be drudgery. It should be a happy, expectant event."
Kerri recommends incorporating as many natural elements as possible into the home, such as plants, water and organic scents, and discourages the use of unhealthy or toxic substances.
She believes good Feng Shui also complements a green approach to living, as both promote health and wellbeing, and she offers the following tips to anyone moving house:
Place live plants in your home – live plants breathe life into and around a home. Try growing herbs to use in the kitchen.
Use native rather than exotic plants as exotics may have been transported greater distances, leaving a larger carbon footprint. Plants with round leaves, such as Jade, are especially good for promoting prosperity.
Encourage natural light – It's great for the energy of your home to allow bright, natural light to flow throughout the space, and it minimises energy usage at the same time.
Hang light rather than heavy curtains, and open doors and windows as much as possible to let in fresh air. For electric lighting, use dimmer switches to set a mood and adjust the chi for the time of day.
Get rid of the clutter – having superfluous or unwanted items around can disrupt the positive energy in your home. Declutter and simplify your life for good Feng Shui.
Accumulate less so that your home and life are organised and free flowing. An orderly, clutter-free space is the best Feng Shui foundation for a new home.
Cut down on electronics – especially in the bedroom. The best scenario is to have no electronics in the bedroom at all. The television is a definite no-no as it will disrupt the calming flow of the bedroom.
Balance – We all want prosperity and more positive energy in our lives, but taking less and giving more back to the earth will help promote an atmosphere of balance which is essential in Feng Shui.
You will not only be promoting green responsibility, but you will be creating an opening for more good things to enter your life. Read the entire article here: Moving in mysterious ways
---

Downsizing with style and ease
The Sydney Morning Herald Domain Property section Thursday 2 June 2011
When downsizing you'll lose space, but there's no need to cut back on comfort or style in your new home.
Move My Home asked three experts in decor, design and decluttering for their best advice when moving to smaller living quarters.
Kerri Rodley of Domestic Downsizing in Norman Park Queensland encourages clients on the move to consider which items are important, useful or beautiful in their home.
"When it comes to downsizing, you must be very aware of what your goal is – to get rid of your stuff to create more space," Kerri says.
"The main questions I ask when helping clients to make decisions about their items are: do you love it? Is it useful? Do you really need it? If you can't answer yes to one of these questions it's time to let it go.
"I find that where people haven't moved for many years, they haven't really looked at their stuff for a long time. But when moving into a smaller space, you really need to do that. Walk around the house and put a sticker on the things you really love, things that give you joy when you look at them – that make a difference in your life."
Kerri has a creative solution where clients can't bear to part with items they don't need or want, because they have sentimental value.
"Let's say you're holding on to jumpers you don't wear because your mother knitted them for you. Are you honouring her memory by keeping stuff you don't like? Either pass them on to someone who will love them, or have things made into other things that you will appreciate.
"You could take a set of photos of the jumpers – close-ups highlighting a detail of the pattern or texture in each. Put them in a triptych frame and you'll have a lovely artwork – a series of different but similar things. That way you'll keep the feel of the jumpers, and of the craftsmanship. One picture of a jumper takes up a lot less room than 10 jumpers."
Kerri offers these additional tips for organising your new environment
Measure your furniture to see if it'll fit into your new space – particularly large items such as sofas and beds.Take the room measurements of your new space or check the floor plan. Don't forget about the location of doors and windows – a factor in furniture placement.
Assess how much of the new space is dedicated to storage to see how much you need to dispose of before moving. Don't forget hidden storage areas you currently use in your old place. Read the entire article here: Downsize with style and ease.
---

Salvaging your fridge after the floods
The Today Show Wednesday 19 January 2011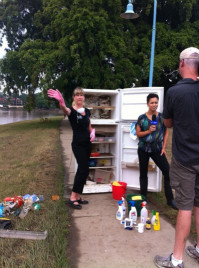 Myself and the crew filming a live segment from the banks of the Brisbane River in West End for the Today Show Wednesday 19 January 2011. Click here to watch video
---

Baked Relief – A helping hand for Brisbane's flood relief
The Australasian Association of Professional Organisers AAPO Newsletter February 2011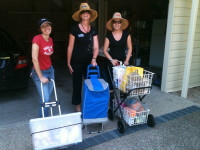 Members of AAPO's Brisbane Forum volunteered to deliver baked goods, sausages, serviettes, water and hand sanitiser to flood affected homes and clean up volunteers as part of a project called Baked Relief. It was a stinking hot day when Kerri Rodley, Louise D'Allura and Adele Blair went house to house handing out their supplies. All three were also regular contributors to the Baked Relief Twitter page.
Pictured (L-R): Louise D'Allura, Kerri Rodley and Adele Blair get ready for their Baked Relief delivery run to help Queensland flood victims and volunteers.
Kerri was also interviewed on the Today Show about how to salvage flood affected fridges. Click here to see more.
- Kerri Rodley is the Assistant Coordinator for the Brisbane Forum of AAPO
---
Create Calm from Chaos
Brisbane Courier Mail Saturday 25 September 2010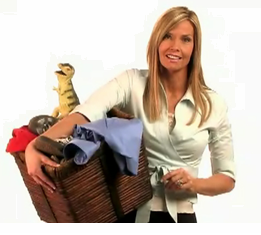 Get serious about bringing order to your home, writes Paula Shearer
Do you love it, do you need it, is it useful? If you can't answer yes then it's time to go!
ONCE the dark and dreary days of winter are behind us, there are few rites of spring more satisfying than the annual clean.
As the sunlight sticks around for a lot longer and the days get warmer, it's a good time to be serious about airing out the house, organising all the clutter and adding some sparkle and shine.
But if the task looks far too onerous and you get the guilts when you realise just how much "stuff" you have, then don't worry.
You are not alone, according to an Australian study which discovered that 88 per cent of homes had at least one cluttered room but the average had three or four.
The Australia Institute paper by Josh Fear found four in 10 Australians feel anxious, guilty or depressed about the amount of clutter in their homes and they sometimes go to extraordinary lengths to deal with their superfluous things.
"People move houses, add rooms to homes and even purchase more stuff, such as storage containers, to accommodate the stuff they have bought or acquired but never used," Fear says.
"One person interviewed said that at one stage she actually wanted her home to burn down in a bushfire – it was that cluttered."
While Fear says a significant number of people are distressed by their clutter, a recent realestate.com.au survey found it was also a turn-off for home buyers.
The report revealed more than half (56 per cent) of house hunters surveyed were put off by a house filled with junk, significantly diminishing the opportunity to secure a successful sale.
More than two-thirds (69 per cent) of those who took part in the survey revealed they were disorganised when it came to keeping their home in order and only one in five (22 per cent) kept their clutter to a minimum.
Home organisation experts Howards Storage World say that organised living is a guaranteed mood enhancer.
"Not only will you enjoy a renewed sense of control, but you'll also save valuable time, space and money by creating storage solutions for your household essentials, keeping them close at hand for when you need them the most," a Howards spokesman says.
So, if you're consumed by clutter and embarrassed by the enormity of it all, Domestic Downsizing's Kerri Rodley has a few tips to simplify your life and revitalise your home this spring.
"Pick a bright sunny day and open up the house to let the air in," the Brisbane professional organiser says.
"Open all the windows and doors to release the stale air and any negative energy.
"Do all the necessary spring cleaning fundamentals – wash the bedding, hang out the rugs, wash or dry-clean the curtains, dust the blinds and dust the furniture. Take notice of all the items around the house.
"Ask yourself: do you love it, do you need it, is it useful? If you can't answer yes to just one of these questions then it's time to go."
And, when the de-cluttering is done, don't forget to enjoy your achievements.
"Celebrate your home," Rodley says.
"Buy fresh flowers and candles, invite friends and family over for a spring barbecue or dinner party and enjoy showing off all your hard work."
---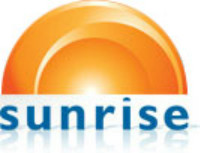 See Oprah's organising guru Peter Walsh on Sunrise…